News, views and upcoming events
Big week for climate action
You will shortly receive an invitation shortly to a series of events to ensure your voice is fully heard during the consultation process. Our top priority is developing a submission which represents the consensus view of our members, using the same process as last year for our climate action priorities for the incoming Government.
Marking World Wetlands Day this week, Meridian is celebrating Project River Recovery, Manaaki Whenua have released new resources for schools, and Trees that Count looks at the origin of the term "wetlands".
How do you create sustainability impact when you're new to the team at one of New Zealand's largest food companies? Jennifer Evans, who had recently joined Mondelēz New Zealand, signed up for the Sustainability Leadership Programme to find out. Read her story.

Introducing new team members
We are very happy to welcome (left - right) Ann Tyler, who is our Executive Assistant during February, Nic Blanchard, our new Communications Advisor, and Kate Wilson Butler, our new Head of Climate Change.

We are monitoring Covid-19 developments closely and will advise of any changes to upcoming events.
Sustainability Leadership Programme - Free Taster Sessions for Pānui subscribers

Join Catapult and SBC

at one of our two free taster sessions

of our flagship Sustainability Leadership Programme.
Online session -
Friday 5 February, 10-11am *a few places now available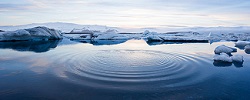 BusinessNZ and Climate Change Commission Consultation Events
Wellington | Tuesday 9 February, 9am-12pm *waitlist only
Auckland | Friday 12 February, 9am-12pm *filling fast
Invercargill | Monday 15 February, 8am-9am
Dunedin | Tuesday 16 February, 9am-12pm
Christchurch | Wednesday 17 February, 1pm-4pm
The draft first package of advice will lay out the pathways needed to reach net zero emissions by 2050. It includes the country's first three emissions budgets and guidance on the direction of the first emissions reduction plan.

Leading the Charge: The CFO Climate & Sustainability 2021 Programme
Auckland | Starting Monday 1 March
The CFO and Sustainability training programme is open to Panui subscribers. Developed in partnership with Deloitte, this short course empowers CFOs to take the lead in managing climate change risk. It builds on our 2020 pilot programme developed specifically at the request of CFOs and shaped by their insights.
Register and more information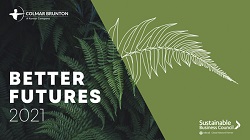 Save the date: Better Futures Report Launch Event
Auckland and livestreamed | Tuesday 2 March, 4.30pm-6.30pm
Open to SBC members. Developed in partnership with SBC and Colmar Brunton, the Better Futures report takes a deep dive into the social and environmental issues that matter the most to Kiwis. This year includes a focus on how COVID-19 has impacted our views. More information coming soon.

Other sustainability events

The path to electrification – what will it take?
Online | Wednesday February 10, 4:00pm
Join the Transpower webinar to hear more about the collective action needed to electrify our economy and meet New Zealand's net-zero carbon objectives.


Reporting on Climate Risks: Get started
Webinar | Thursday 11 February, 11:30am
Is your organisation prepared for the likely cost of climate change? Whether you want a quick refresher or are entirely new to the world of TCFD reporting, thinkstep-anz's webinar series with the Climate Disclosure Standards Board (CDSB) will help you take the first steps.

Climate Emergency – what's next for our cities?
Auckland | Thursday 11 February, 5.30-7.30pm
The first NZGBC Future Thinkers event of the year will be a panel discussion on the recent declaration of a climate emergency here in Aotearoa and what this means for our cities, covering carbon and buildings, water sensitive urban design, transport, and construction and demolition waste.
Register and more information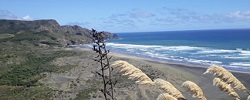 Climate change and yoga workshop
Birkenhead, Auckland | Sunday 21 February, 1.30-3.30pm
Join our very own Jay Crangle for an interactive and inclusive afternoon on the positive climate change actions we can achieve through yoga. Koha with all proceeds to youth-led climate action groups Te Ara Whatu & Generation Zero.
Register and more information


Start Your Carbon Zero Business Journey
Webinar | Wednesday 24 February, 3 & 10 March | 10.30am – 11.30am
Join The Canterbury Employers' Chamber of Commerce in February to start your carbon journey, this practical webinar series will educate your team on carbon emissions, why and what the role of business is, where to start and what to do. The Carbon Zero Series is made up of three consecutive sessions. You can watch live at your own time on demand if you can't make all three.
Register and more information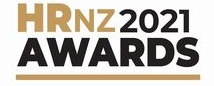 NZ HR Awards Ceremony
Auckland and livestreamed | Thursday 4 March
The NZ HR Awards celebrate exceptional HR professionals. Finalists include BNZ, Chorus, Fonterra, SkyCity and the NZ Institute for Plant and Food Research.
Register and more information


HR Virtual Summit
Online | Thursday 18 March
This Virtual Summit provides a focus on navigating your workplace through COVID-19 in 2021 – and helping you to build your 2021 Covid-19 HR Roadmap.
Register and more information


Kiwibank New Zealander of the Year Award Gala
Auckland | Wednesday 31 March
The Kiwibank New Zealander of the Year Awards honour those who use their passion to make our country a better place. Buy tickets and more information